Unmatched Protection for Any Environment
Whether you're operating outdoors or indoors, AttaBox® Heartland® Enclosures are designed to excel. Our enclosures offer unparalleled safeguarding against rain, snow, sleet, splashing water, hose-directed water, submersion, UV rays, and flames.
Experience the difference with AttaBox®. Our enclosures are over 40% stronger than competing options, featuring robust side walls that eliminate flexing. Made from a polycarbonate material formulation, they offer exceptional impact resistance and dimensional stability. In the industrial and manufacturing sectors, where toughness matters, our enclosures excel. 
Impact Resistance Where It Counts
Unlike metal enclosures prone to dents upon impact, AttaBox® polycarbonate enclosures stand strong. With a lighter weight yet higher impact resistance, our enclosures ensure your equipment remains protected and secure.
Built to Battle Corrosion
Count on AttaBox® for corrosion resistance. Choose from full non-metallic or stainless steel cover latches and hinges that meet NEMA Type 4X requirements, offering heightened defense against corrosion. From oil and gas to marine environments, our enclosures thrive in diverse industries.
Simplified Installation, Reduced Costs
When ease of installation matters, polycarbonate shines. Compared to metal enclosures, the lightweight nature of AttaBox® enclosures speeds up the setup process, leading to overall cost savings.
Withstanding the Test of Time
AttaBox® polycarbonate enclosures are naturally resistant to UV degradation, ensuring longevity in even the harshest exterior conditions. Our enclosures hold an f1 rating for outdoor use per UL 746C, proving their endurance against the elements.
Tailored Modifications Made Easy
Customization is a breeze with AttaBox®. Modify your enclosures effortlessly using standard tools for holes, windows, vents, and drains. Say goodbye to dust and delamination worries—our enclosures cut cleanly and stay durable. Explore our ModRight program for factory design, engineering, and modifications to conquer any application challenge.
Seamless Integration for Wireless Technology
Unleash the potential of wireless technology with AttaBox®. Our polycarbonate enclosures facilitate unhindered wireless and radio frequency signals, enabling antenna placement within the enclosure. Plus, the option to block EMI/RFI frequencies adds an extra layer of flexibility that metal enclosures can't match.
Discover the pinnacle of enclosure performance with AttaBox® Heartland® Enclosures. Your equipment deserves the best protection—experience it today.
Image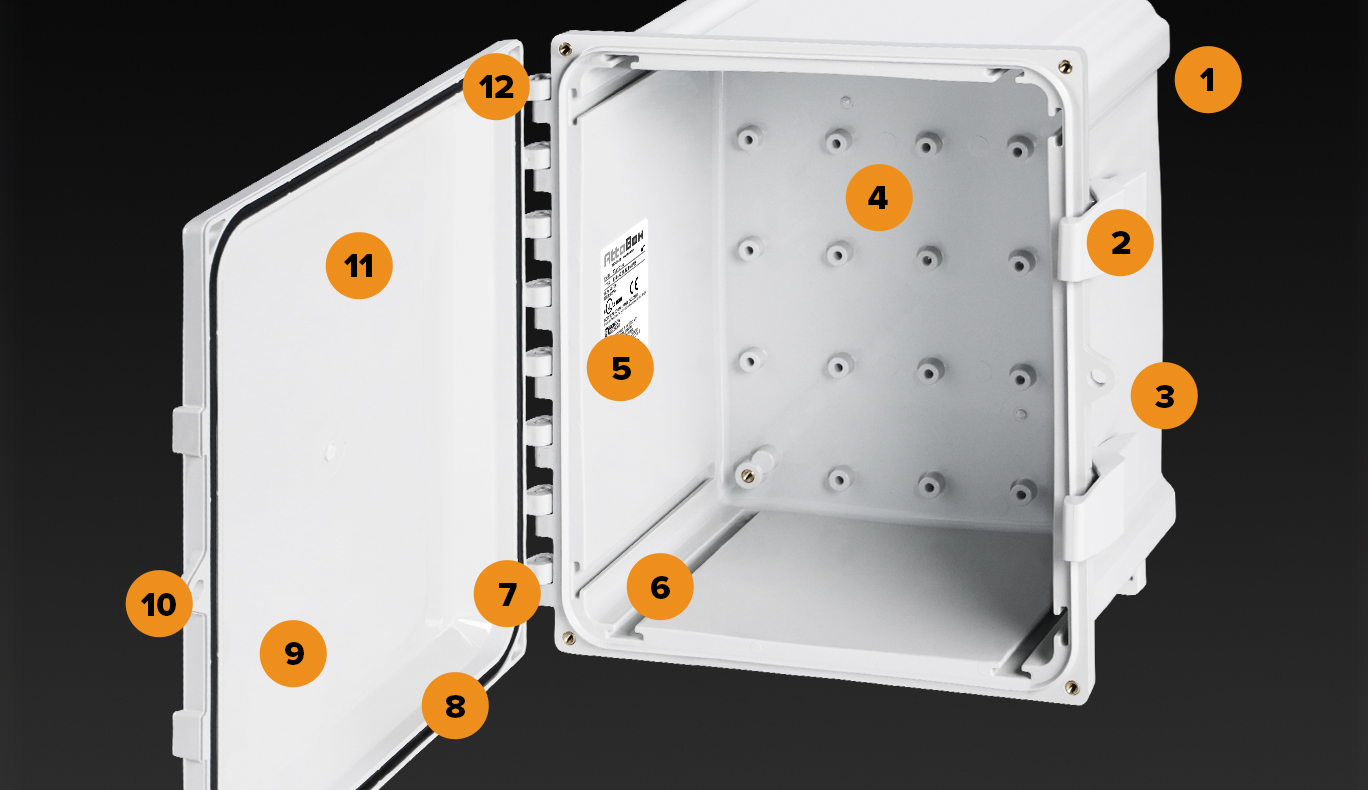 Broad size range: 6" x 6" to 24" x 24"
Full non-metallic or stainless steel cover latches
Thick, robust sidewall and base construction prevents flexing of walls
Built-in DIN Rail mounting embosses
UL Listed as Industrial Control Enclosure
T-Channel and Slot Nut design allows for infinite adjustment of panels
Full non-metallic hinge, does not penetrate enclosure
Robotically-applied foam-in-place gaskets
Easy to remove door
Integrated locking clasp
Clear and opaque cover styles available
One box, one solution, hinged/latched and screw cover type